Visit website 808 Massachusetts Street, Lawrence, KS 66044 Opens Monday at 8:30 a.m.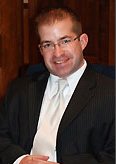 Admitted to Missouri bar, 2006; Kansas bar, 2007.
Preparatory Education: University of Kansas (B.A., Political Science, 2003)
Legal Education: University of Missouri-Kansas City (J.D., 2006).
Member: Douglas County and Kansas Bar Associations, Missouri and Kansas City Metropolitan Bar Associations, and American Bar Association.
Primary Areas of Practice: - Criminal Defense - DUI / DWI - MIP - Traffic