Visit website 808 Massachusetts Street, Lawrence, KS 66044 Opens Monday at 8:30 a.m.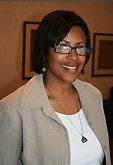 Born: Chicago, Illinois, August 5, 1971; admitted to bar, 2006, Louisiana; 2008, Kansas.
Preparatory and Legal Education: University of Kansas (B.A. Human Biology, 1995; J.D., 2002).
Member: Kansas Bar Association; Louisiana State Bar Association; NAACP, Douglas County Chapter; Zeta Phi Beta Sorority, Inc., Chi Delta Zeta Chapter.
Primary Areas of Practice: - Criminal Defense - Consumer / Finance - Insurance