Visit website 808 Massachusetts Street, Lawrence, KS 66044 Open today until 5 p.m.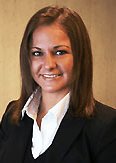 Born: Lawrence, Kansas, October 17, 1983; admitted to bar, 2009, Kansas; also admitted to practice before U.S. District Court, District of Kansas.
Preparatory Education: Kansas University (B.G. S., History Major, Religion Minor, 2006).
Legal Education: T.M.C. of Lansing, Michigan (J.D., 2009).
Member: Douglas County and Kansas Bar Associations.
Primary Areas of Practice: - Criminal Defense - Family Law - Landlord / Tenant - Traffic