Roofing Services / Important Information about your insurance premiums and Class 4 Impact Resistant shingles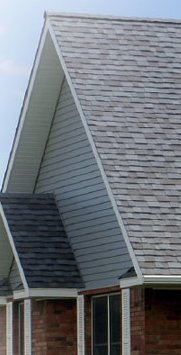 Hailstorms and heavy winds can cause major damage to homes, especially roof systems. Class 4 Impact Resistant shingles have been manufactured to protect your home from the most extreme weather conditions. Class 4 shingles are more flexible, stronger and more durable, creating a shingle that resists cracking, splitting, warping and shrinking. When correctly installed, the shingles are designed to withstand high impact hail as well as high wind velocities. Some Class 4 shingles even provide protection against algae and fungus growth.
Homeowners have long sought an affordable and durable product that will stand up to the extremely damaging forces of nature, yet still provide a beautiful look to the exterior of their home. Class 4 shingles cost less than most wood and tile applications. In addition, homeowners may also qualify for a premium discount from their insurance company.
Class 4 shingle manufacturers offer limited product warranties from 30 years to 50 years along with wind resistance limited warranties from 100 mph in most cases, and up to 130 mph. For more information about Class 4 shingles, please visit the web sites listed below:
<
p>www.malarkey-rfg.com
www.owenscorning.com>