Visit website 1717 College St., Baldwin City, KS 66006 Open today until 5 p.m.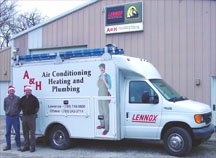 Our Planned Service Agreement (PSA's) for residents in the Lawrence, Ottawa, Baldwin City, Kansas, and surrounding areas, can keep your system running at peak efficiency all year long and is tailored to fit your individual needs. Once enrolled, one of our trained professionals will inspect, clean, adjust, and lubricate your equipment. With each tune up we will include:
a high efficiency pleated filter
valuable information on the condition of your equipment
priority status and preferred customer discounts on any future services
To keep your equipment in top condition, it is best to perform preventative maintenance on a yearly schedule.
Spring - Replace filter, using high efficiency pleated filter - Check blower and drive belt (if applicable) - Oil blower and condenser fans, check amps - Check all safety controls and electrical connections - Wash condenser coil, use coil cleaner when required - Check refrigerant charge, using superheat method - Check all temperatures and pressures - Check compressor windings (mega ohms) - Check thermostat, calibrate if necessary - Check condensate drain, clean if needed - Shut of humidifier - Clean electronic air cleaner (if applicable)
Fall - Replace filter, using high efficiency pleated filter - Oil blower and blower motor - Check blower motor volts and amps - Check volts, amps and oil inducer motor where applicable - Check all safety controls and electrical connections - Check burners, heat exchanger and crossover assembly; clean if needed - Check pilot and pilot safety (or ignition assembly), clean if needed - Check combustion and flue draw - Cycle furnace, check and test overall operation - Turn on humidifier, clean and service (included with humidifier service only)