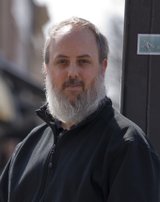 Videos
Online chats
Wednesday March 23, 2011: Read transcript
LJWorld.com asked Tyler Palmer five questions about issues facing the Lawrence school board:
1. Where, specifically, in the district's budget would you look first to make cuts to offset anticipated declines in state funding? Where would be the last?
The dollar figure for the amount that has to be cut may not look that large compared to the size of the total budget, but when looking at how significant a percentage the current shortfall and the anticipated declines represent of the funds that we have local control over and can be considered for cuts, it is going to get more and more painful to absorb the losses.
While I currently do not support school closure or cuts to curricular programs as solutions to the district's budget woes, it is certainly going to be incumbent on the board to at least discuss these areas as well as all other options. The full spectrum of non-restricted spending will be under scrutiny and a thoughtful, deliberative review of the district's allocations will need to be performed. As we look at a continuing decline in funds and the formation of a longer-term vision for budget priorities, it will be necessary that the district solicit input from families, educators, and other members of the public in regard to what our local educational goals should be and what is best for the students.
The areas that would be hardest to convince me to make cuts in would be those that directly impact student success and curricular diversity. It is essential that students have as wide an array of opportunities for learning as possible if we want them to become well-rounded, thoughtful participants in society.
2. What is the best way to "close the achievement gap" in schools?
In order to close the achievement gap, it will be necessary to continue the efforts that have already been started by the district's Courageous Conversations initiative to identify the causes of achievement differences and work towards the modifications to our education system necessary to solve the issues raised by that process. We'll also need to review existing research; solicit feedback from students, families, educators, and others; hold community forums; and continue to examine techniques that have been successful in other districts to see if makes sense to implement similar programs in our schools.
3. What would you include in a proposed bond issue?
I would include the renovation of those schools identified in the physical condition subcommittee report of the elementary school facilities vision task force as needing upgrades to lighting, air quality, and other deficiencies that may be having a negative impact on students and staff. The report cites research that indicates increased learning by as much as 20% in math and 26% in reading when comparing schools that have large amount of daylight to those that do not. If we can achieve similar results by upgrading environments in Lawrence schools, we should consider making such modification part of a bond issue.
Resolving situations that contribute to any accelerating deterioration or can provide for long-term sustainability of facilities should also be considered. Any buildings that have areas that cannot be renovated in such a way as to provide for necessary sustainability of the facility would either need to have those areas replaced or the school may need to be considered for total replacement or consolidation with another school depending on the scope of the needs and the economic conditions at the time of the bond issue.
4. How would you increase public participation in district decision making?
The elementary school facilities vision task force is a great example of how the school board can provide for more community involvement in the decision-making process. Similar groups could be convened when situations necessitate substantial input to ensure that the diversity of public opinion is reflect in any plans created that will effect the entire community.
Other mechanisms that can assist the board and district in engaging the public could include active solicitation of feedback via electronic forums, social media, town hall meetings, and meetings conducted at the various schools in the district.
5. If you could send a tweet — that's 140 characters or less — to legislators in Topeka on behalf of the Lawrence school district, what would you say?
Stop attacking education. Slashing public education funds year after year while refusing to look at revenue is irresponsible. #jerks