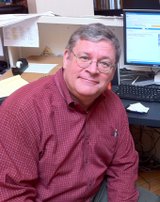 Online
Videos
Online chats
Monday March 14, 2011: Read transcript
LJWorld.com asked Mike Machell 11 questions about issues facing Lawrence:
1. Do you support the city studying the privatization of the city's trash system?
It is fiscally responsible to evaluate the cost and service level of our city services to ensure that taxpayers are receiving good value for their tax dollars. Our city's trash collectors do a great job. However, new technology and improved efficiencies may suggest better ways to provide this basic service. Nevertheless, before I vote to privatize the service, any cost savings and service levels must be significant. I would require assurances that, once committed to a private vendor, Lawrence could not be held hostage to later rate increases and/or cuts in service or quality if the solid waste collection were privatized.
2. Would you favor the city creating a city-operated curbside recycling service or do you believe that the system should continue to be operated privately?
Would you favor the city creating a city-operated curbside recycling service or do you believe that the system should continue to be operated privately?
3. Did you support the $18 million bond issue to expand, renovate and add parking to the Lawrence Public Library?
Yes. Lawrence had outgrown the existing facility and it was time to invest in a city service that is heavily used by residents across the community. Cuts in state funding to education, low interest rates and depressed construction costs also influenced my decision to support the project. The City Commission initiated the project and asked the library board to support it. As chair of the library board, I felt it was my job to ensure that the issues were presented for the voters to decide. The final outcome of the vote indicated that I did my job.
4. Are you interested in receiving proposals to redevelop city-owned parking lots in Downtown Lawrence?
I support downtown development. Bringing additional jobs and residential units downtown supports business in that area and contributes to an active and vital downtown community. The challenge is to ensure that the benefits to the city more than offset the additional demands on city services. For example, the redevelopment of city-owned parking lots may create a shortage of parking in the downtown area. Therefore, proposals will need to incorporate a greater number of parking spaces into the design than exist today.
5. Do you support the city's decision to take over ownership of the former Farmland Industries fertilizer plant and its plans to convert the area into an industrial/business park?
Yes. This decision made sense not only from the standpoint of increasing available sites for new businesses to locate or existing businesses to expand, but also ensured that decisions involving future use of the Farmland property remain firmly in the hands of the community. While there are costs associated with environmental contamination, I believe that the risk is minimized by the $8.5 million left in trust to clean the property as well as the value of the land and scrap metal remaining on the property. The city was able to purchase the property at a nominal cost and there is clearly great potential for economic development despite the need for additional infrastructure investment.
6. What's your position on the use of tax abatements to attract economic development projects to the city?
I support the use of tax abatements and other economic development incentives to attract or retain jobs and investment in the community. Economic development is extremely competitive. If we don't use tools that other communities are using to attract new business or to retain current employers, Lawrence is placed at a serious disadvantage. Our abatement policy sets reasonable expectations for future tax benefits and the creation of well-paying jobs. There are performance provisions in our policy that reduce the abatement if expectations are not met. This is a reasonable and fair approach that protects the taxpayer while providing an incentive to the business.
7. How would you rate the overall condition of city streets on a scale of 1 to 10, with 1 being poor and 10 being excellent?
Investment in infrastructure, including city streets, will be one of my priorities when establishing the next city budget. This is a critical basic function of city government and we need to ensure that a street maintenance program is adequately funded without increasing taxes. More investment is needed, but I decline to provide an overall rating without the benefit of a more complete overview of the condition of city streets.
8. Do you believe the city needs a recreation center to serve the western portion of the city, and would you work to move that project forward during your term?
A new recreation center will meet recreational needs created by Lawrence's growth to the west. I do not support a tax increase for a new recreation center at this time, but I am willing to consider the project provided it can be financed by reallocating existing sales tax revenue as well as money raised through private donations. I see an economic impact value if the facility could also be used to attract sports tournaments that would bring in visitors to Lawrence. Therefore, I am open to planning that would move this project forward.
9. Would you have supported a proposal to allow Lowe's to build a store near Sixth Street and Folks Road?
At the time, I reluctantly agreed with the city commission's vote not to allow Lowe's to build the store near Sixth Street and Folks Road. It is unfortunate that a compromise between the city, Lowe's and homeowners could not have been worked out to allow 125 jobs and $700,000 in annual sales and property taxes to come to Lawrence. The Lowe's outcome underscores the need for Lawrence residents to work together to reach a consensus on the future growth of our city. Our community simply cannot continue to walk away from good jobs and sources of tax revenue.
10. Do you support the use of incentives such as Community Improvement Districts and Transportation Development Districts that allow businesses to charge an additional sales tax to help pay for improvements at their properties?
Yes, but on a limited and clearly-defined basis. I support the use of tax incentives to promote large, existing commercial projects that require infrastructure improvements due to age or decline. I also support projects that benefit the community but may not be financially feasible by a single or limited number of businesses (e.g. support of a grocery store or pharmacy in an underserved area of the community). I am concerned that broad usage of these tools may create a confusing array of sales tax districts and may deter consumers outside Lawrence from shopping here because of a perception that we have higher sales taxes. To ensure consistency and fairness, the city commission should develop standards for when it is appropriate to use these incentives, including requiring specific plans outlining how the tax dollars will be used.
11. How would you rate the quality and effectiveness of the city's public transit system on a scale of 1 to 10 with 1 being poor and 10 being excellent?
I would rate the quality and effectiveness fairly high. However, we should consider how we can encourage more residents to ride the bus. This would have the benefit of increasing ridership, promoting environmentally friendly transportation and alleviating parking space limitations downtown. Partnerships with local businesses, Downtown Lawrence and the Chamber of Commerce should be explored further. Many residents rely on public transit to get to work, do their shopping and get to appointments, so it is important that it can continue to cost-effectively operate the system.