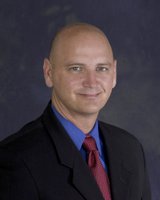 Online
Videos
Online chats
Tuesday March 15, 2011: Read transcript
LJWorld.com asked Hugh Carter 11 questions about issues facing Lawrence:
1. Do you support the city studying the privatization of the city's trash system?
I do not support the idea of privatizing our city's trash service. This is an important service that touches every citizen and we are doing a good job with it. We should always be looking for ways to improve our service, so I do support the idea of looking at best practices of other city's as well as private companies to see what we can learn.
2. Would you favor the city creating a city-operated curbside recycling service or do you believe that the system should continue to be operated privately?
I would absolutely be in favor of a self-sustaining, city-operated recycling service. My previous career took me to many different states and communities and most of those communities are well ahead of us in terms of recycling. I believe that recycling programs are most effective and most cost-efficient if they are included in the trash fees for all. The cost per person who recycles is dramatically reduced and the number of people who recycle is dramatically increased. We should be leading the way in this effort, not lagging behind other communities.
3. Did you support the $18 million bond issue to expand, renovate and add parking to the Lawrence Public Library?
I would have preferred to see the library expansion and parking garage funded without a property tax increase. That said, I believe that great communities have great amenities and I see amenities like this as fuel for economic development. The renovated library will be another community asset that will help differentiate us from other communities as we compete for potential new employers.
4. Are you interested in receiving proposals to redevelop city-owned parking lots in Downtown Lawrence?
I would be interested in seeing any proposal that may enhance our award-winning downtown. I would not support any project that makes it more difficult for shoppers to park or that would have an adverse effect on the retail revenues downtown. Any project brought forward should be geared towards reducing the leakage of retail revenues to other communities.
5. Do you support the city's decision to take over ownership of the former Farmland Industries fertilizer plant and its plans to convert the area into an industrial/business park?
Yes, I support the decision to purchase the Farmland plant and convert it to an industrial/business park. This is a great example of city leadership being proactive in our efforts to increase jobs and income for Lawrence residents. I'm enthusiastic about the potential outcome and look forward to doing my part to see that this project is a winner.
6. What's your position on the use of tax abatements to attract economic development projects to the city?
I believe that incentives like this must be looked at on a case-by-case basis. Tax abatements are just one of many arrows in our quiver when it comes to competing for more jobs and income for our residents.
7. How would you rate the overall condition of city streets on a scale of 1 to 10, with 1 being poor and 10 being excellent?
I would have to rate the overall condition of our streets at a 4. In the past, short-sighted decisions were made to use lower quality materials in order to build roads faster and cheaper. Our community deserves better. The good news is that there is a plan and this problem is being addressed. The City is back to using adequate materials so that roads will last about 10 years longer than our current roads.
8. Do you believe the city needs a recreation center to serve the western portion of the city, and would you work to move that project forward during your term?
Adequate recreational facilities are an important factor in the quality of life and overall health of a community. I would like to see additional recreational facilities in the western portion of the city. However, timing may be an issue, given the budget challenges we currently face.
9. Would you have supported a proposal to allow Lowe's to build a store near Sixth Street and Folks Road?
As a planning commissioner, I voted against a proposal to amend our comprehensive plan — an act that would have cleared the way for Lowe's to propose building near Sixth Street and Folks Road.
I would like to have seen a much more in-depth proposal than Lowe's was allowed to give to the planning commission. If I'm elected on April 5, I will work to make the planning process more transparent and efficient. The planning commission and city commission and the public must be given all of the facts in an unbiased fashion in order to make informed decisions.
10. Do you support the use of incentives such as Community Improvement Districts and Transportation Development Districts that allow businesses to charge an additional sales tax to help pay for improvements at their properties?
As with tax abatements, I believe that incentives like CIDs and TDDs must be looked at on a case-by-case basis. However, I would work to clarify the criteria for projects to be considered for these kinds of incentives.
11. How would you rate the quality and effectiveness of the city's public transit system on a scale of 1 to 10 with 1 being poor and 10 being excellent?
I would rate the quality and effectiveness of our public transit system a 6. The only thing holding me back from a rating of 7 is the current number of riders. We need to continue strengthening our partnership with the university in order to maximize ridership.