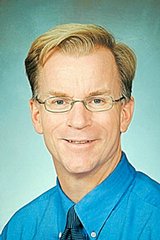 Online
Videos
Online chats
Monday February 19, 2007: Read transcript
Name: Rob Chestnut.
Age: 45.
Address: 5209 Fox Chase Drive.
Profession: Chief financial officer for Lawrence-based Allen Press Inc.
Education: Undergraduate degree in business administration and accounting, 1983; master's of business administration from KU, 1984.
Family: Wife, Micki; three children, ages 15, 12 and 10.
Rob Chestnut, said his financial experience and background of creating consensus in large corporations would be assets to the City Commission.