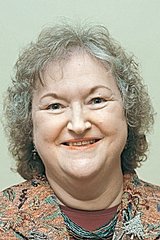 Videos
Online chats
Wednesday March 14, 2007: Read transcript
Age: 62
Address: 2917 Westdale Road
Occupation: Retired in 2003 after 12 years as the local school district's director of assessments. She is now a research and testing specialist for Kansas City, Kan., public schools.
Public service: Former chairwoman of the Lawrence Arts Commission; president of the board for the Lawrence Civic Choir; 1999 graduate of Leadership Lawrence; past member of board of Lawrence Partnership for Children and Youth; founding member of Project Freedom, a former drug and alcohol program aimed at teenagers.
Issues: She would like to see all-day kindergarten in Lawrence schools. She would also like to look at more money being put into programs that help keep students in school and curb drug and alcohol use.
Family: Two adult children, including one who lives in Lawrence, and three grandchildren.