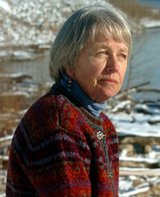 Online
Videos
Online chats
Monday February 19, 2007: Read transcript
Name: Carey Maynard-Moody.
Age: 62.
Address: 1645 Barker Ave.
Profession: Retired school social worker and owner of a home-based flower business.
Education: Undergraduate degree in literature from Bennington College, Bennington, Vt., 1966; master's in education from Temple University, Philadelphia, 1972; master's in social work from KU, 1989.
Family: Husband, Steven, and three adult children.
Past political experience: First run for political office.
Carey Maynard-Moody said she would run a campaign that emphasizes making Lawrence more environmentally friendly and attracting environmentally friendly businesses.