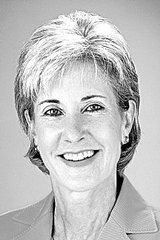 Online
Campaign ads
Democrat Kathleen Sebelius, 58, was elected governor in 2002 over Republican Tim Shallenburger, then the state treasurer. Sebelius had spent the previous eight years serving as the state's Insurance Commissioner - elected to that position with promises that she would take no campaign contributions from the insurance industry. Prior to that, she served eight years in the Kansas House of Representatives.
During her four years as governor, Sebelius has faced a Kansas Legislature dominated in both houses by the Republican Party. She was named one of Time Magazine's best governors in 2005. She claims credit for balancing the state's budget during her years in office; she also touts passage of a Military Bill of Rights - which provides additional benefits to Kansas soldiers and their families - and an effort to provide lower-cost prescription drugs as among the key accomplishments of her term.
She is the daughter of former Ohio Gov. John Gilligan, and is the first daughter of a U.S. governor to serve in the same post.
Date of birth: May 15, 1948
Spouse and children: Husband Gary; two sons
Current job: Governor
Party affiliation: Democrat
Church-religious affiliation: Catholic
Previous elected positions: Kansas House, insurance commissioner