Kansas Sentencing Guidelines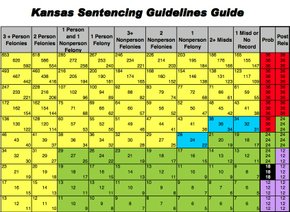 This worksheet is used by judges in Kansas to determine the sentences imposed on defendants.
State law created two grids of sentencing guidelines. One controls drug offenses, while the other controls non-drug offenses, and both mandate sentences based on they type of offense and the defendant's criminal history.
The yellow areas indicate prison sentences, the green areas indicate probation sentences, and three "border boxes" in blue may be prison or probation according to the judge's ruling.
PDF / 39.6 KB