Correspondence between Murray and Ross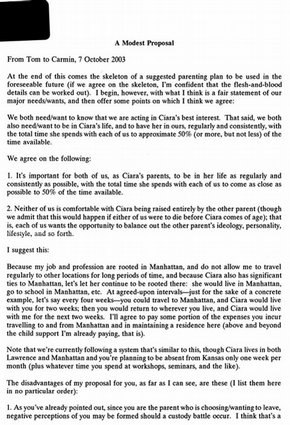 "A Modest Proposal": October 2003 Murray correspondence to Carmin Ross, laying out a proposed parenting plan.
"A Modest Proposal" is also the title of a well-known work of English literary satire by Jonathan Swift. In that work, published in 1729, Swift with deep irony proposes that the problem of poverty in Ireland be solved by having poor children in Ireland be sold and eaten as food. Swift's full title is, "A Modest Proposal for preventing the children of poor people in Ireland, from being a burden on their parents or country, and for making them beneficial to the publick."
PDF / 337.8 KB