Engagement
Diedel and True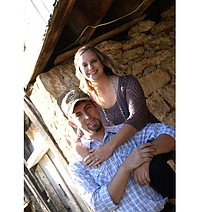 Dan and Christina Diedel of Lawrence, Kansas are pleased to announce the engage­ment of their daughter, Krista Marie Diedel, to Nathan Jeffery True, son of Jeff and LaDonna True of LeRoy, Kansas.
Krista is a graduate of Lawrence Free State High School and re­ceived a Bachelor of Science in Elementary Education from Empor­ia State University. She is currently teaching for USD #290 in Ott­awa, Kansas.
Nathan is a gradu­ate of Southern Coffey County High School and attended Emporia State University where he studied Ecology and Biodiversity. He is cur­rently employed at Kal­mar in Ottawa, Kansas.
A September wed­ding is planned at Cor­pus Christi Catholic Church in Lawrence, Kansas.