Anniversary
Evans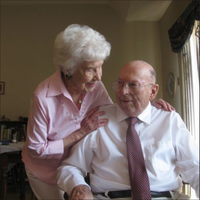 Robert and Lydia Evans celebrated their 70th wedding anniversary on October 20th, 2013. They met as high school students in Norman, Oklahoma in 1937 when Robert delivered hamburgers from a soda fountain to Lydia's house. It was love at first sight, and remains forever more. They were married in Riverside Church in New York City on October 20, 1943, along with many other newly commissioned Ensigns on the same day as his graduation from Midshipman School. He was then shipped overseas during WWII.
They both graduated from the University of Oklahoma, and started their careers in Dallas after WWII. They settled in Great Bend, Kansas in 1951, and established Evans, Bierly and Hutchison Consulting Engineers while their family grew to 5 children.
Their family now includes 10 grandchildren, and 8 great grandchildren spread around the world. Bob and Lydia have lived in and loved Lawrence since 1978.
They celebrated their special anniversary with family and friends at Circle S Ranch in Lawrence on October 20th, 2013.
Engagement
Schmidt and Euper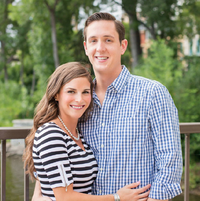 Tom & Debi Schmidt of Lawrence are pleased to announce the engagement of their son, Collin, to Ashley Euper, daughter of Lloyd & Martha Euper of Flint, MI.
The groom graduated from FSHS in 2003 and from Iowa State University in 2007 with degrees in accounting & finance. Collin currently lives in Minneapolis, MN & works in finance at General Mills. The bride graduated
from Olivet College in 2008 with a degree in Risk Management & Insurance and currently works as an insurance broker at Swett & Crawford. The newlyweds will reside in Minneapolis after a honeymoon to Europe following their June 7th nuptials.
Wedding
Chapin and Jaques
Colby Taylor Chapin and Hayden Cotting Jaques were married on June 15, 2013. The ceremony and reception were held at the Circle S Ranch in Lawrence. Rev. Robert Skahan officiated. Colby is the daughter of Chris and Cris Chapin, Lawrence. Hayden is the son of William and Beverly Jaques of Wenham, Massachusetts.
Maid of Honor was Katy Ibsen. Best man was Preble Jaques. Bridesmaids were Landis Coutzoukis, Cari Chapin, Alex Gholson, Lisa Weisbecker and Katie Panzica. Groomsmen were Cooper Chapin, Kellan McNulty, Jay Gierak,
Alex Roitman and Jake Stone. Ushers were Jeff Oldenburg and Rohit Agarwal. Readers were Betsy Bishop Nolan and Zach Renn. The flower girl was Laynie Zeka and the Ring Bearer was Miller Renn.
The bride is a graduate of Free State High School. She earned a bachelor of fine arts degree in metalsmithing
and jewelry design from the University of Kansas in 2006 and is currently working for a jewelry startup company in Sao Paulo.
The groom is a graduate of Milton Academy. He earned a bachelor's degree in history from Harvard University in 2006 and is a commodity trader in Sao Paulo. The couple resides in Sao Paulo, Brazil