Anniversary
Russell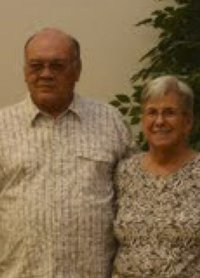 Jim and Linda (Taul) Russell, of Baldwin City, were married August 4, 1963 at the Worden EUB church in rural Baldwin City. They were high school sweethearts, meeting at Baldwin High School. Jim graduated in 1961 and Linda in 1963.
The couple have three children: Tim Russell (Tracy) and Bob Russell (Lisa) all of Baldwin City and Sarah Bates (Jared) of Hanover, Indiana. They have eight grandchildren: Emily, Trent, Mackenzie, Riley, and Lauren Russell and Isaac, Owen, and Liam Bates.
Jim and Linda have spent their married life in Baldwin City and raised their family there. Jim did auto body work in area shops and maintenance work for Webco and Central Fibers, retiring in 2008. Linda has been employed by the Baldwin School District for over 30 years. She is now semi-retired and volunteers at Vintage Park Assisted Living and Baldwin Senior Wheels.
They invite all family and friends to celebrate their 50th wedding anniversary on Saturday, August 3 from 2-4 pm at the Worden United Methodist Church. They request no gifts.
Anniversary
Stewart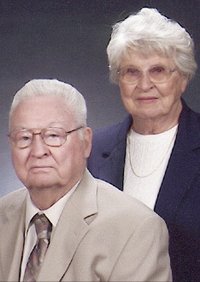 John Thomas Stewart and Arletia May Torneden were married July 27, 1943 at Oskaloosa, Kansas. They have 3 children; Johnny, Lawrence, Gladys Tipton (deceased) & Bob (Nancy Beyer), Fountain Hills, AZ. Grandson, Rob (deceased), Great Grandson, Chris (deceased), Granddaughter, Amy Harting (Scott Harting), Great Grandsons, Andrew and Josh, Surprise, AZ.
John retired with 37 years as an American Family Insurance Agent and Arletia retired with 27 years with Westar.
Anniversary
Pennybaker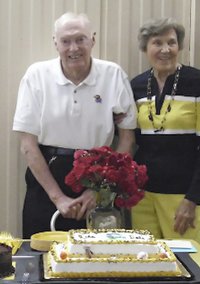 Dale and Rita Pennybaker will celebrate their 60th wedding anniversary on July 31st, 2013. They met at Kansas State Teachers College (KSTC), now Emporia State University. They were married in Emporia, Kansas. Dale spent his career in coaching and as an athletic director, and Rita was an elementary school teacher. The couple resided in Burlington, Kansas, Iowa City, Iowa, Fremont, Nebraska, Minot, North Dakota, and Wayne, Nebraska early in their marriage. They resided in Evergreen, Colorado for over 20 years, and then retired to Lawrence where they have resided for over 20 years.
They have one son, Kent, who resides in Lawrence with his wife Janet. Grandchildren are Atherly (Attie) and Austin.
They will celebrate their anniversary with an Open House on Sunday, July 28th, 2013 from 2 to 5 pm at their son Kent's home at 1569 Alvamar Drive, Lawrence.
Anniversary
Guggisberg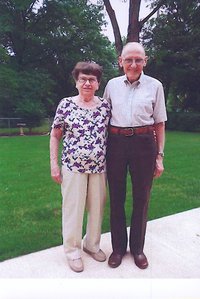 Carl and Doris Guggisberg celebrated their 65th wedding anniversary with family.
Carl Guggisberg and Doris Roberts were married June 13th, 1948, in Burns, Kansas.
Carl worked in the parts department at Ford dealerships in Topeka, California and Lawrence. He retired from Laird Noller in Lawrence. Doris worked at the Topeka Air Force Depot and was a homemaker.
They have two daughters, Carol Martindale and husband Steve of Lenexa, and Kimberly Rayton and husband Clarence of Lawrence. Five grandchildren, Elizabeth (Martindale) Ortin, Josiah Martindale, Janel (Martindale) Wakefield, Kayla Rayton and James Rayton. The couple has lived in Lawrence since 1960.
Wedding
McIntyre and Rigg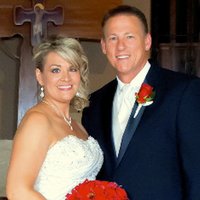 J.R. Rigg and Julie McIntyre were married on June 14, 2013 at Corpus Christi Catholic Church followed by a reception at the Oread Hotel in Lawrence.
The bride is the daughter of Bernard and Darlene Katzfey, Lawrence. She is a 3rd grade teacher at Broken Arrow Elementary in Lawrence. The groom is the son of the late, Howard and Pat Rigg. He is retired from the Union Pacific Railroad.
The couple and their children reside in Lawrence.
Wedding
Novelo and Haynes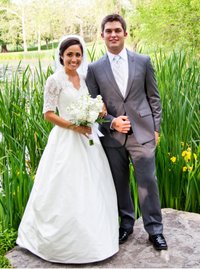 Leila Novelo and Kirby Haynes celebrated their marriage on May 26 in a ceremony held on the west bank of Potter Lake on the KU campus. The bride was escorted by her mother, Cindy Novelo of Lawrence, and her father, Jaime Novelo of Caye Caulker, Belize. The bride's attendants were Luna Novelo Ellis, Shevaun Novelo DeLucia, Chris Juarez, Tessa Dick, and Sarah Bodle. Attending the groom were Travis Hardin, Case Haynes, Cooper Haynes, and Jake Hembree. The ceremony was performed by the Reverend Jason Elmore. Flower girl was Kaydence West and Jeremiah Novelo served as ring bearer. A wedding supper and reception was held after the ceremony at Maceli's. A feature of the reception was a "cookie bar" with many varieties of cookies all made by the groom's mother, Ronda Peck. Invitations and table decorations were designed and made by the bride's sister, Luna Novelo Ellis of West Valley City, Utah. The couple resides in Corpus Christi, Texas.
Wedding
Gettman and Grose
Dawn Gettman and Rick Grose were married on July 3, 2013. Dr. Gettman is a staff clinical psychologist at the VA Medical Center in Topeka. Mr. Grose is a teacher at Washburn Rural High School. The couple resides in Topeka with their cats.
Engagement
Mohr and Bahret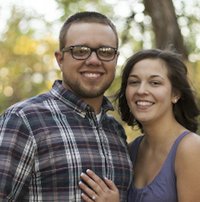 Rod and Susie Mohr, Lawrence, along with Ernie and Penny Bahret, Lecompton, announce the engagement of their children, Veronica Mohr and Blair Bahret, both of Lawrence. The future bride is a 2007 graduate of Free State High School. She graduated from Ottawa University in 2012 with a Bachelor's degree of Business Administration. The future groom is a 2006 graduate of Perry-Lecompton High School. The couple plans an October 5th, 2013 wedding at First United Methodist Church in Lawrence.
Engagement
Stamer and Smith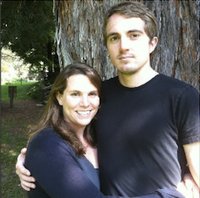 Melissa Stamer, of Lawrence, KS, and Josh Smith, of Iola, KS were engaged on November 26, 2012 in Monterey, California.
Josh is the son of Kim and Larry Peterson of Iola, KS; Melissa is the daughter of John and Shari Stamer of Lawrence, KS.
The couple plan an October 12, 2013 wedding in Lawrence, KS.
Engagement
Fritz and Blackwell
Bobbi Jo Fritz and Daniel Blackwell of Lawrence announce their engagement to be married.
Bobbi Jo is the daughter of Linda Fritz and the late Don Fritz of Lawrence. Bobbi Jo is a 2009 graduate of Lawrence High School.
Daniel is the son of Angel and Bill Lemaster of Pensacola, FL, and John Blackwell of Bluefield, W. VA. Daniel is a graduate of Pensacola Community College and served in the United States Army.
The couple plan to be wed in late October.
Wedding
Clark and Frager
Hallie Lianne Clark and Charles Glenn Frager were married May 1st 2013 at Unity Church of Lawrence by Rev. Shannah McAleer. The bride is the daughter of Lori Clark, Lawrence KS and Terry Clark, Mclouth KS. The groom is the son of Gary and Susan Frager, Lawrence KS.