Engagement
Smith and Elliott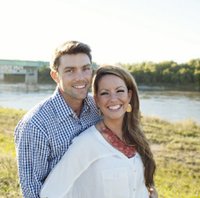 Steve and Libby Smith, Lawrence, announce the engagement of their daughter, Carly Michael Smith, to John David Elliott, both of Kansas City, Missouri. John is the son of Michael and Cyndi Koonse and Tom and Sheri Elliott, all of Columbia, Missouri.
The future bride is a 2003 graduate of Free State High School. She earned a bachelor's degree in Business from Kansas State University in 2007. She is employed by the Hallmark Corporation, Kansas City, Missouri.
The future groom is a 2003 graduate of Rock Bridge High School, Columbia, Missouri. He earned a B.A. from Temerlin Advertising Institute at Southern Methodist University in Dallas, Texas. He is employed by the Cerner Corporation, Kansas City, Missouri.
The couple plans a June 15, 2013, wedding in Kansas City.
Wedding
Campbell and Jones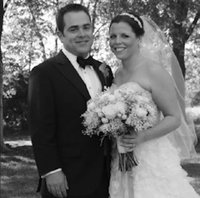 Kelly Rose Campbell and Jacob Jones were married on September 29, 2012 at Holy Family Catholic Church in Eudora. Father Patric Reily officiated. Following the ceremony, a reception was held at Abe and Jakes Landing in Lawrence. Kelly is the daughter of Richard and Janet Campbell, Eudora, and the granddaughter of Delbert and Lois Campbell, Overland Park. Jacob is the son of Albert and Leslie Merritt, Kansas City, KS, and the grandson of William Rand, St. Peters, MO.
Monica Reynolds was Maid of Honor. Best man was Matt Benge. Bridesmaids were Kendall Overman, Sarah Meador, Sarah Bartel, Julie Cook Gregory, and Lauren Durkin. Grooms were Jimmy Dwyer, Johnny Ward, Jason Sanders, Robert Sweeney, and Danny Roberson. Jr. Bridesmaids were Isabel Rand, and Samantha Gregory. Jr. Groomsmen was Gus Rand. Flower girl was Caroline Overman. Ring Beareres were Gabriel and Nicolas Campbell, nephews of the bride. Ushers were Nick Pickard, Spencer Bass, and Max and Sam Campbell, brothers of the bride.
The bride is a 2003 graduate of Eudora High School, and a 2007 graduate of the University of Kansas.
The groom is a 2002 graduate of Shawnee Mission East High School, and attended the University of Kansas.
Kelly works as a Sales Coordinator for Holland 1916, and Jacob is in sales for Cropper Enterprises. The couple resides in Prairie Village.