Wedding
Moody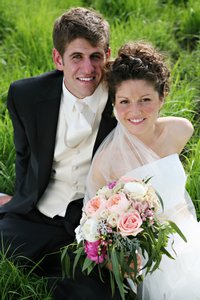 Nicole Henry and Christian Moody were married May 26, 2007, at the bride's parents' home in Lawrence, with Bill Vogler and Phil Dougan officiating.
The bride is the daughter of Rodger and Sheryl Henry, Lawrence.
The groom is the son of Mark and Mary Moody, Asheville N.C.
Matron of honor was Sheryl Henry. Best men were Patrick Moody and John Moody. Bridesmaids were Katie Huff, Sarah Dinsdale, Stacey Urban, Ashley Knight, Jen Daugherty, Lauren Moody and Morgan Hodges. Groomsmen were Luke Henry, Stephen Vinson, Ken Chang, Evan Toren and Brett Olson.
Personal attendants were Betsy Olson and Katie Messamore. Guest book attendants were Anna Vinson, Becca Hurd, Alex Gray and Clare Owen. Program attendants were Anne Dinsdale and Carolyn Dinsdale. Gift attendants were Mandy Beck and Morgan Scott. Cake attendants were Melissa Colgan and Ellen Travis. Ushers were Jay Gray, Tim Moody, Conor Kelly, Michael Smith and Pat Shehan. Musicians were The Markley Family. Videographer was Rick Mumford. Wedding coordinator was B.J. Kelly.
A reception was given at Abe & Jake's Landing.
The bride is a graduate of Lawrence High School. She received a Bachelor of Science in community health from Kansas University. She is employed at Blossoms Floral Design in Asheville, N.C.
The groom is a graduate of T.C. Roberson High School in Asheville, N.C. He received a Bachelor of Science in human biology from KU. He is employed by Alphatec in Asheville, NC.
The couple reside in Asheville, N.C.