Wedding
Rombeck and Gruver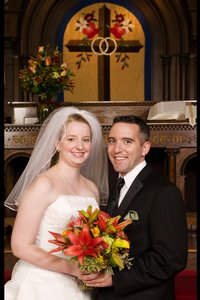 Jana Gruver and Terry Rombeck were married Sept. 29, 2007, at First United Methodist Church in Lawrence, with the Rev. Tom Brady officiating.
The bride is the daughter of Norval and Elaine Gruver, Independence, Kan. The groom is the son of Michael and Gail Rombeck, Belle Plaine.
Maid of honor was Sara Hatzenbuhler. Best man was Dave Rombeck. Bridesmaids were Jill Gruver, Lisa Gruver and Christina Daily. Groomsmen were Patrick Schultes, Andy Smith and Scott McClurg.
Flower girl was Allyson Gruver. Ring bearer was Ethan Tschanz. Candlelighters and guest attendants were Kate Barnes and Julie Tschanz. Scripture reader was Susan Rathmell. Elisa Bickers was the organist, pianist and soloist. The personal attendant was Julie Bayha. Cake attendants were Tammy Shepherd, Danielle Shepherd and Joy Hammar.
A reception was given at the Adams Alumni Center at Kansas University.
Jana graduated from Independence High School. She received a bachelor's degree from Kansas University and a Master of Occupational Therapy from Texas Woman's University in Denton. She is an occupational therapist at St. Francis Health Center in Topeka.
Terry graduated from Belle Plaine High School and received a bachelor's degree from Wichita State University. He is a features reporter at the Lawrence Journal-World.
The couple reside in Lawrence.