Anniversary
Bigsby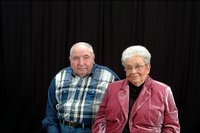 Bigsby
Robert and Dorothy Bigsby, Lawrence, celebrated their 61st wedding anniversary with a family dinner in Lenexa.
They were married Jan. 23, 1945, in Lawrence. They are both graduates of Liberty Memorial High School.
They have lived on a farm south of Lawrence for more than 50 years. Robert is a retired dairy farmer.
Their children are Karen Carlin Finstad, Lenexa; and Carol Keen and Robert Bigsby Jr., both of Baldwin.
They have four grandchildren and four great-grandchildren.
Anniversary
Harris
Harris
Howard and Carol Harris, Lawrence, celebrated their 39th wedding anniversary on Friday.
Howard Harris and Carol Austin were married Jan. 27, 1967, in Topeka.