Completed chat with Tom Keegan about start of KU men's basketball season
November 8, 2012
This chat has already taken place. Read the transcript below.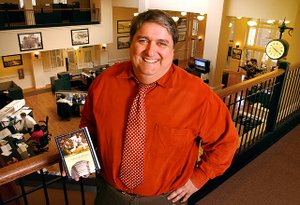 Journal-World sports editor Tom Keegan will chat at 10:15 a.m. Thursday. He'll answer questions about the start of the Kansas men's basketball season (or even KU football if you prefer).
Moderator:
Hey guys — This is Jesse Newell, KUsports.com online editor. I'm joined by Journal-World sports editor Tom Keegan. Tom, how are you doing today?
Tom Keegan:
Doing great. Will be courtside for Friday basketball opener and in the press box Saturday morning in Lubbock, as will you. Looking forward to both games, but must confess I wish Lubbock were a little closer.
Moderator:
All right, lots of good questions here. Let's get started.
TK Do you think fans have unrealistic expectations of big Jeff on the offensive end for this year? He was the #1 beneficiary of the T Rob double teams last year imo. I think he will be a monster on the D end and contribute in non box score ways when on the floor. Your thoughts?
Tom Keegan:
I think your opinion is dead on. He'll have some big offensive games, but for the most part he'll be a defensive monster. Before the year is out, I wouldn't be surprised to see the ball going into Perry Ellis, the way it did Thomas Robinson, making Withey the secondary inside option.
Self loves guys like Chalmers, Robinson, and Collins who can play the "combo" guard. Can Ben McLemore be this or is he a true wing like Rush?
Tom Keegan:
I think he's a true wing like Brandon Rush and Travis Releford. I think McLemore has a better left hand than Rush and as crazy as it sounds, I think he's even more athletic. It's going to be a blast watching McLemore develop.
Tom, I am concerned with KU's lack of competition in BIG 12 as only Baylor is ranked in the top 25(apart from KU obviously). Are you? Are you a believer of the theory that if teams get better tested in tough leagues they seem to perform better/go further in NCAA tournament?
Tom Keegan:
I do believe that tough competition gets teams ready for the tournament, but I think the Big 12 will be tougher than most believe. Bob Huggins is a phenomenal coach and has a better roster than most think at West Virginia. With Bruce Weber, Kansas State will be tougher to defend. Texas always has plenty of talent. Le'Bryan Nash is going to have a big year at Oklahoma State. Plus, the Big 12 has teams that play different styles and the on-campus gyms make for tougher road atmospheres than in most conferences. It's not as loaded as most years, but Kansas will face enough tests to be ready.
Moderator:
First football question ...
Can you make an argument for why I should root for or against k-state winning th echampionship? I want the big12/state to look good, but all the purple tshirts and hearing about it from their fans (our new rival) doesnt seem worth it. What is best for KU football/the fans?
Tom Keegan:
Hutt-hutt.
Tom Keegan:
Always follow your heart when rooting. As for what's best, I think K-State winning a national championship would be good for KU football. It would allow Charlie Weis to tell recruits that a national championship can be won by a school from the state of Kansas. Follow that up with flashing four Super Bowl rings, toss a little New Jersey charm sprinkled with sarcasm and there you have it, the seeds for a second national power from the state of Kansas are planted.
With so many freshman going to be playing key roles this year and therefore learning on the court as the season progresses, at what point do you think they get comfortable and we see the team's potential?
Tom Keegan:
A new NCAA rule allowed for coaches to work with the entire team two hours a week during the summer, plus six hours of individual workouts. Kansas had 10 practices in advance of four European exhibitions. That should help and appeared to help in the first exhibition. Kansas moved the ball great on offense in the first exhibition. The second one? Maybe basketball is a little like golf. You have one great game, you think you have it licked, you get ahead of yourself, look awful and have to return to the basics. I think by conference play, Self will have them playing really well.
Do you see Rio Adams or Naadir Tharpe getting the meaningful minutes at the backup guard as the season hits conference play?
Tom Keegan:
Tharpe has the advantage with an extra year, but Adams has a higher ceiling. The only way Adams can pass Tharpe is if he figures out a way to play at two different speeds. He needs to maintain the speed at which he's playing defense and then slow down his brain at the other end so that he's just a facilitator who keeps the ball moving without turning it over. It's tough to do for a freshman, but the way he pressures the ball defensively, for Kansas to be as good as it can be, Adams has to tighten up his ball security to the extent Self trusts playing him.
Whats your prediction for how many years Ben McLemore and Perry Ellis play at KU?
Tom Keegan:
If the NCAA and NBA got together and came up with a system wherein the NBA drafts players and parks them in the college game for as many years as they want, I'd say three for McLemore and four for Ellis. As it is, my best guess would be McLemore is one-and-done and Ellis stays three years. I hope I'm wrong about McLemore because it would help his NBA career if he stayed two or three years at Kansas.
http://www2.kusports.com/news/2012/nov/02/opinion-espn-analyst-bilas-shows-why-ncaa-should-l/

How good will the football team be next year?
Tom Keegan:
I think better than this year, even though the offensive line won't be as good. I know everyone is a little leery about hyped transfers and with good reason, but I do believe that BYU transfer Jake Heaps, nicknamed "The Mormon Cannon" by Oklahoma WR transfer Justin McCay, will significantly upgrade the quarterback position. But Charlie Weis and his staff still need plenty of recruiting upgrades at wide receiver and both lines. The secondary will be young, but if the recruits already committed verbally honor those commitments, instant help appears to be on the way. I think Charlie's third year is the first one that realistically can contend for a bowl berth.
Moderator:
Time for a few more ...
Tom, who's KU's toughest non-con opponent this season? MSU or OSU?
Tom Keegan:
Ohio State. For one thing, the game is in Columbus and the Michigan State game is in Atlanta. For another, Ohio State has a deeper, more experienced roster. Aaron Craft and Deshaun Thomas are two of the best players in the country. Against Kansas, the Buckeyes won't miss Sullinger because Jeff Withey predictably rendered him ineffective.
Moderator:
Three questions in a row here from JarredLatta that you can probably knock out with a sentence apiece, Tom ...
Bill Self has started both, Jamari Traylor and Justin Wesley at the forward spot, do you think that is Perry Ellis' come Friday night?
True or False: Kansas is potentially a Final Four team.
What are the chances Elijah Johnson is the Big 12 POY?
Tom Keegan:
I've been wondering that myself. He's a recruit from Kansas who has played well so far and is the sort of serious young man who when looking back at his college career years from now would take great pride in being able to say he started every game of his career. Yet, if there's something Bill Self wants him doing more of in practice and he's not doing it to Self's satisfaction, that could be enough for the coach to bring him off the bench.
Tom Keegan:
True, Kansas POTENTIALLY is a Final Four team. I would say Elijah Johnson's chances of being the Big 12 Player of the Year are as good as anybody's but I wouldn't call anybody a favorite.
Moderator:
Two more ...
Could you beat Bill Self on the golf course?
Tom Keegan:
Without a doubt. ... As long as I get a stroke on the first eight handicap holes, which at Lawrence Country Club would be holes 3, 4, 6, 8, 12, 13, 15 and 16, but who's counting?
Moderator:
Last one ...
Hey Jesse/Tom...
At seasons end, what do you see as the overall win/loss record? Conference record and standing? How far will this team make it in the Big Dance? Finally, who is the overall season MOP?
Moderator:
I've got 31 regular-season games for KU. So I'll say 23-8, 13-5, 1st, Elite Eight, Jeff Withey.
Tom Keegan:
Keep in mind that I'm dead last in our football picks, so that should tell you how much stock to put in my prediction: Overall: 34-6, conference 15-3, Final Four. Ben McLemore.
Moderator:
All right, that's going to wrap it up. Thanks for all the great questions, and thanks to Tom for taking time to chat.
Be sure to check back to KUsports.com for live coverage of KU's men's basketball opener against SE Missouri State at 7 p.m. Friday.