Completed chat with Jesse Newell about KU basketball's European trip
August 15, 2012
This chat has already taken place. Read the transcript below.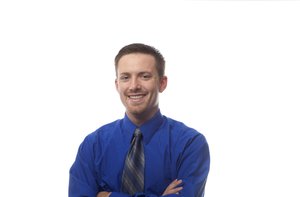 KUsports.com online editor Jesse Newell talked about KU basketball's just-completed European exhibition trip.
Moderator:
Hey guys, thanks for taking part in our chat. Let's get right to the questions.
What do you think could be KU's biggest problem this season? Scoring or defending?
Jesse Newell:
I'd have to think it will be scoring.
KU coach Bill Self does a good job of getting his teams to do what he wants defensively (he hasn't even worked with his guys on defense yet this year), but I could see this team struggling at times to score in half-court sets.
It's still really early, but the Jayhawks struggled most in half-court sets in Europe. A 24-second shot clock made things tougher, as did the fact that all of KU's freshmen are still learning the offense.
In transition, KU had some turnovers, but the Jayhawks do have some athletes (like Perry Ellis) who performed well when running on the break.
Hi Jessy, please fill in the missing word: Self should be more _______ with the team after the European trip.
Jesse Newell:
I'd say "focused."
One of the biggest benefits of the trip is getting to see guys in real game action to assess strengths and weaknesses. Practices just can't simulate that.
Now, Self has four game videos that show him where each guy needs improvement. The Jayhawks should be a step ahead in November, because guys now already can identify those areas and work on them.
A couple examples: Landen Lucas played better as the trip went on, but he admitted to me afterwards that he felt rushed with everything he did. A few times, he dropped easy post passes, and other times, he rushed shots.
Now, he'll spend the next couple months knowing what it's like against good competition, and he can focus in on relaxing and trying to be more composed on the court.
Which guard will have a higher impact on the team this coming season: Milton Doyle or Anrio Adams?
Jesse Newell:
Great question. And I'd say it's too early to tell.
In all honesty, neither played particularly well during their games in Europe. Both still seem to be in the early stages of learning the offense while also being challenged by coaches to play better defensively.
It seems to me like Adams has more defensive potential at this point, as I remember him coming up with a couple steals. Doyle had his best contest in the last game, where he showed some flashes of potential with a pair of drives to the rim in transition where he looked smooth in putting in scoop shots.
My guess would have to be that Adams plays more this year, but that's just a guess at this point. Both have a lot of improvement needed in the next couple months.
Regarding a non-stat sheet type of observation: Out of all the newcomers+Traylor (exclude BMac due to injury), who seemed to have an "instinctive" desire to go after loose balls, rebounds, 50/50 balls, and steals/jumping the passing lanes? (ie, who possesses that Chalmers-like intangible?). Thanks.
Jesse Newell:
This definitely goes to Zach Peters, who dove for quite a few balls to try to save them from going out of bounds. Peters always seems to be in the right place for rebounds, and he uses his body well to shield off opponents when going for boards.
He's a hustle guy with a good body and a decent offensive game. He'd have to be considered the third big behind Ellis and Withey at this point.
Hey Jesse
I know the team is raw, but from what you saw, do you think this team could have a similar run as last year's team?
Jesse Newell:
I know this much: Self likes this team. And this is the point in the season where he's playing the part of motivator, as he's trying to push his guys to work hard over the next two months.
It's so hard to make a run in the NCAA Tournament. Not only do you have to have a great team, you have to have a good draw and also get a couple lucky breaks.
"Raw" is a good way to describe the KU team that was playing in Europe, as there were a lot of turnovers, plenty of confusion on offensive sets and guys not playing the same type of defense they'll play here in two months when Self starts getting after them.
I'd say this team has a lot of talent and potential at this point and also a coach that has shown the ability to get the most out of that. To me, that puts KU in the conversation for a deep NCAA Tournament run if luck falls right.
As Self said, though, the guys need a lot of skill work. Some simple tasks (like passing and catching) weren't so simple in Europe.
Self seems to like a 4 man rotation at the post. I could be wrong, but it seems like Ellis and Withey will be our starters. That leaves Young, Wesley, Peters, Traylor, and Lucas left fighting for 2 spots. Who do you see having those spots? Any chance of guys red shirting?
Jesse Newell:
I'd agree with you about KU's starters.
From there, I'd say Peters and Young have a pretty significant edge at this point (warning once again that it's early).
Young was inconsistent in Europe, but when he's good, he's really good. He's got great athleticism and instincts on the offensive glass and also good basketball IQ, which helped him a couple times when KU was playing with the international rules.
I know Self would like Young to be better defensively and on the defensive glass, but I think that'll come. If Self wants to go small, Young could be an option at the 3 as well.
As far as the other guys in Europe, I'd rank them Lucas, Traylor, Wesley. Out of that group, both Wesley and Traylor have already red-shirted.
That means the only red-shirt candidate out of the group would be Lucas, though you'd think that decision would be up to him.
Jesse- How good were the opponents on this trip? Are they on par with Top 25 college programs or are they better than top NCAA schools? The French were in the Olympic in basketball and none of the players on the French team that played KU were on the Olympic team.
Jesse Newell:
It's funny, because both teams played differently in each of the games I saw them.
The Swiss team was the less talented of the two, though it shot a lot better in the second game. In the first game, both KU and Switzerland seemed to be dealing with some nerves.
The Swiss were not physical at all and didn't have overwhelming size, plus one of their best big men was ejected midway through the first game after putting on the biggest blowup I've ever seen in person.
It's so hard to compare, but I wouldn't say Switzerland would be a top-25 program in the U.S.
AMW Team France would have been, especially in the second game. That team made 12 of 20 threes in the first conest, then in the second game, they brought on Kevin Seraphin, who in fact did play for France's national team and averages 8 points a game for the Washington Wizards.
Do you see jeff withey as a big 12 player of the year candidate? Has his offense improved enough to become reliable on a nightly basis?
Jesse Newell:
Honestly, I don't. Though if he's not hurt, I will be surprised if Withey doesn't win Big 12 defensive player of the year once again.
The center might end up as the best defensive player that Self has had at KU, which would be pretty impressive considering how well Cole Aldrich played on that end.
Still, I don't think Withey's a go-to scorer the way Thomas Robinson was. In Europe, his isolation post moves just weren't that effective. He had one nice move in the first game against France, but other than that, his one-on-one moves weren't pretty and were also slow enough to let the defense recover.
Maybe I just saw a couple bad games, and maybe Withey will continue to improve.
At this point, though, I see him as a guy that will finish off passes from his teammates and get stickbacks. Sometimes that'll mean 18 points. Sometimes that'll mean four. KU has enough offensive weapons that Withey shouldn't have to try to do more than he's capable of.
How serious was Ben's injury? Could you tell it was hurting and or hindering him?
Jesse Newell:
Self told me he was having trouble walking with the injury, and I saw a bit of that when he was shooting around before the final game. He was hobbling around a little bit and seemed to be favoring it quite a bit.
The bottom line is that if there's any question about his health, you don't play him. Self made the right call in that regard. These exhibitions mean even less than the ones coming up in November, so it's better to err on the cautious side.
Given a little rest, I would think McLemore should be fine. Sounds more like a tweak than it does a significant injury.
Jesse great coverage and it appears you really enjoyed the trip. Do you think that Matt Tait was more jealous of you going to Europe with the team, or will you be more jealous of him when he is camped out with the football team enjoying a bowl game?
Jesse Newell:
Ha. Giving KU football six wins already, huh? I like the optimism.
Actually, if KU goes to a bowl game, I'll most likely be tagging along with Matt to do online stuff. In other words ... I've got a pretty good gig.
Jesse, first of all, thanks for always being our eyes and ears. if we could, we'd all be there with youI
Now that you've seen the full squad, do you think anyone is going to red shirt this coming season?
Jesse Newell:
Lucas seems like the most likely candidate just by looking at the roster. Wesley and Traylor already have, and Ellis and Peters will play right away.
That'll probably be his call. Like I said above, he'd definitely be competing to be the Jayhawks' fifth big guy behind Withey, Peters, Ellis and Young. We should know more once practices start and guys have a better feel for the offense.
Guard-wise, who knows? I guess Doyle could be a candidate, though KU looks pretty thin behind Johnson and Tharpe at the guard position.
Dear Jesse,
Best non-basketball experience?
Worst non-basketball experience?
Did you try to sneak an Amsterdam "shop" receipt into your expense report?
Did have a special beret (European Vacation style, embroidered with Jesse) to wear in France?
Jesse Newell:
1. The view from the top of Mount Pilatus at Lake Lucerne in Switzerland was incredible. I'm not a nature-y guy, but that panoramic view of the Alps was spectacular. The Eiffel Tower was pretty cool as well. With so many landmarks (Statue of Liberty, Mona Lisa), people are often disappointed with how much smaller they are compared to what you would think. The Eiffel Tower, on the other hand, was about twice as big as I thought it would be. The view from above was so good that Self was taking cell-phone pictures ... and that's a guy that's seen a lot of things.
2. Getting to Amsterdam and being freaked out by a foreign airport. I found my way to a bathroom and literally was almost knocked over by a cleaning woman behind me who was trying to take out the trash while I was at the urinal. I kid you not, the first three times I was in a foreign airport bathroom, there was a cleaning woman in there with me. So strange, but I guess normal over there.
3. No Amsterdam stop for me, and especially not one like that. Ha.
4. No beret either, though I bought one for my wife. Haven't given it to her yet, so hopefully she doesn't read this chat.
Who do you think will end(by conference play) up being our 2nd string point guard? Adams or Tharpe or Doyle??
Jesse Newell:
Naadir Tharpe.
He's the kind of guy that drives Self crazy, but he also is starting to gain the coach's trust. Tharpe played 30 minutes in the last game against France while Adams played 13 and Doyle played 10. I think that's a pretty good indication of where the three stand right now.
I was especially impressed with Tharpe's ability to push the ball in transition. He's quick one he gets it, and he ended up making some good decisions in those fast-paced situations. He threw it away a few times and needs to work on his post passing, but at this point, Tharpe should be considered the leader for the backup point-guard spot.
Jesse,
I think we all expected Perry Ellis to do some good things in these exhibition games. Aside from him, who or what was the biggest positive surprise from the trip? What was the biggest negative surprise?
Jesse Newell:
Zach Peters was the biggest positive surprise. Without seeing him play, I figured he might be a redshirt candidate coming into the season.
Peters plays aggressively and is an advanced rebounder for his age. He also goes after the ball hard and wins hustle plays as well. He already has a few moves in his offensive arsenal, and perhaps best of all, he doesn't play scared. If he gets blocked, he'll shoot the next shot without hesitation. A few of the freshmen don't have that confidence yet.
Andrew White's scoring also was a highlight, though I think I expected a little more out of him coming in. He's also not scared to put up shots, and his jumper looks smooth. When he focuses in, he did well at stopping drives defensively, and with his long arms, Self might be able to turn him into a defensive stopper before he's gone.
The biggest negative surprise, other than Ben McLemore not getting to play much, to me was Jamari Traylor. We'd heard quite a bit about how he would have played for last year's team, but he still appears a little more raw than I thought. Physically, he has everything you want out of a post guy, and he also can run extremely well, but his offensive game has quite a ways to go.
If you had to predict our 8 man rotation now, who would be in it?
Jesse Newell:
From past years, we know that Self likes to go 9-11 in the non-conference then narrow that down to 8-9 for conference season.
Starters appear to be pretty much set with Johnson, McLemore, Releford, Ellis and Withey. Add in White, Young, Peters and Tharpe, and that would be my nine-man group for the moment, though that's subject to change with injuries, etc.
What was the most surprising thing that you learned about the team?
Jesse Newell:
Maybe not surprising, but I was pleasantly surprised by the guys themselves while I was over there.
I spent a lot of time with the guys and interviewed quite a few of them. Landen Lucas and Zach Peters were both nice and happy to talk while on the Eiffel Tower. Naadir Tharpe and Andrew White made room for me when I had to squeeze next to them on the team bus, and Tharpe even offered me his sandwich (which I gladly accepted).
Jeff Withey joked with me after the first game about how good my gig was, and White is polite and says thoughtful things in interviews.
I shadowed those guys quite a bit to take photos, and they didn't seem to be annoyed, either. That made my job a whole lot easier.
Who do you think could be KU's best player off the bench this year?
Jesse Newell:
Kevin Young fits that role perfectly. Give a boost of energy off the bench while also being a versatile player that can play a couple positions.
Jesse, now for a really important question... Travis Releford had expressed some concern about the food in Europe (having spent nearly two weeks in Switzerland myself some years ago, I fully understand such concern). So, how was the European cuisine, in your opinion?
Jesse Newell:
Pretty good on the whole. Anthony Travel of Dallas hooked the tour group up with some great breakfasts (and also really good sightseeing trips), but we also had some time to wander to find our own meals.
I didn't get out much in Switzerland, but in Paris, I had some really good crepes that, with some meat and peppers, tasted a bit like pizza. Picked up some cherry gelato, which was really good, and a college buddy also took me to a fancy macaroon place in the city, where a cherry pistachio macaroon was one of the best desserts I've ever had in my entire life. Glad I got the big one.
What do you perceive to be the number one benefit of the European trip (and I am including the 10 practices as part of the trip)? Also, if you had to list your biggest concern about this year's team, what would it be?
Jesse Newell:
I'd say the biggest benefit is similar to what I said above: That KU's players now have a better understanding for big-time basketball and also know the areas they need to improve.
Don't overlook the fact that Self didn't miss the opportunity to use the trip as a motivating tool, especially for his veterans. He called all of them out for their play after the third game, and because they didn't play in the fourth game, he now has given them a reason to work hard over the next two months to "prove him wrong." No one ever said Self wasn't a smart guy.
The biggest concern at this point has to be ball-handling. In KU's defense, that European ball looked awfully slick, and the courts oftentimes also were slippery. Remember that a 24-second shot clock also will naturally increase turnover totals, as teams get more possessions in those games.
Still, KU was sloppy with the basketball, and a quick glance at the roster shows that beyond Johnson, the Jayhawks don't have a ton of proven ball-handlers.
Moderator:
Let's get a few more in ...
Perry Ellis seems like the total package and I have not been this excited about a recruit in a long time. Size, athletic ability, 4 years of high school dominance, and a big time brain which seems to be underrated in college basketball. From what you have seen, does Ellis look to be a good player, a really good player, or the making of something special?
Jesse Newell:
Let's go with a combination of the last two: A really good player with the making of something special.
Ellis makes so many things offensively look easy. He was especially impressive in the last game, as he has great handles in transition. He was able to catch, turn his body and score in traffic in a way that is not natural among most big men.
He also can score once he gets it in the post and doesn't hesitate once he gets it. Right now, his favorite move is a spin around a defender on the baseline and reverse lay-in that he showed a couple times on the trip.
Self is challenging Ellis to be more aggressive. It's going to be a change for Ellis, who is a soft-spoken guy with a non-aggressive personality.
Still, there's a whole lot there to like with Ellis, especially offensively.
Thanks for the great coverage Jesse. First question, what player or performance was the biggest surprise of the trip? Second question, did you get to go on the tours with the team? Looks like they saw some pretty cool stuff.
Jesse Newell:
I talked a bit about the best surprise player being Peters above.
The biggest performance(s) came from Kevin Young in the first three games' fourth quarters. In those final stanzas, he rebounded, scored, defended and even (legally) knocked free throws off the rim to prevent points. Johnson called him "Superman," and that was a pretty good way to describe his late-game efforts.
Also, KU was nice enough to allow me to go on most of the tours with the team. That was how I was able to send back most of the photos you saw on KUsports.com in the last week.
The newcomers ("Freshmen") will need to be productive to help KU reach the heights it ascended this past season. Question: How realistic is it, after observing their play in Europe, that they can be brought up to speed and help maintain KU's dominance of the Big-12?
Jesse Newell:
With Self, I would say it's realistic.
All last year, Self told the story about Jeff Van Gundy watching his team's first few practices and telling him that his team wasn't very good.
I feel like this year's Van Gundy. KU played sloppy in Europe with players that have talent but at times had troubles even passing the ball to each other or staying inbounds.
Like I said, though, Self likes this team, and he hasn't even started to work with them defensively — an area they should improve upon quite a bit. Not to mention that one of KU's best players, Ben McLemore, sat out most of the trip.
The team I saw in Europe over the last week would not be able to win the Big 12.
Give them a couple of months with Self, though, and really, anything is possible.
Moderator:
Thanks for all your questions and for reading this week's chat.