Ask Santa Claus
December 15, 2011
This chat has already taken place. Read the transcript below.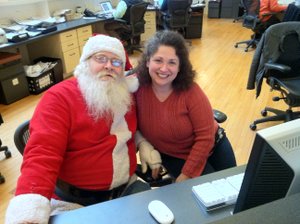 Santa's in Lawrence for a few minutes this busy Christmas season. Kids, ask Santa your questions about the North Pole, the Naughty List, and anything else on your mind.
Moderator:
Hi Everyone,
We have a very special guest with us today – Santa Bob. Santa thanks so much for visiting. I'm sure you are very busy this time of year. Santa Bob is making special appearances around town in hopes of raising money for a VanGo bench in front of Schiefelbusch Clinic at Kansas University. We'll have more on that later.
So, Santa are you ready for Christmas Eve?

Santa Claus:
You betcha!

Santa Claus:
Hello to all the good girls and boys in Lawrence! This is Santa's busy time, but I am excited to chat with the good children of Lawrence!
Moderator:
Okay. Well let's get started with the questions. Our first one is about Rudolph.
Hi Santa! I was wondering, is Rudolph your favorite Reindeer? From you biggest fan!
Santa Claus:
I will say that Rudolf is one of my favorites, because he knows the way to all the children's homes, and makes sure we get there safely! I like his nose the best! He lights the way to your house!
Santa, what do you do if a house doesn't have a chimney?
Santa Claus:
Santa has his own special ways of getting in! I have been doing this for so long, there isn't a trick Santa doesn't know! Good kids everywhere get visits from Santa, even those without homes.
Santa Claus:
But it's a Santa Secret!
Moderator:
So Santa, I'm sure lots of folks have asked you this question. But how do you know if girls and boys have been bad or good this year.
Santa Claus:
Santa has many, many helpers. One of the jobs of my elves is to keep track of the good boys and girls. They help me make my list.
Also, I talk to all of your teachers to make sure you are doing your homework, and being nice to your classmates. Santa sees if you bully others, and that is a sure way to get to the "Naughty" list.
Santa knows if you're bad or good when he talks to your parents, and grandparents. So be sure to be sweet to everyone you meet, because Santa can talk to your folks all year round....not just at Christmas!
Moderator:
Well, I sure hope I'm on the good list. We've got more questions about this list.
If somebody is on the 'naughty list', how long do they have to get back on the 'nice' list? Is it too late?
Santa Claus:
Santa has never really met a "Naughty" boy or girl....just sometimes misbehaving. Santa wants you to do nice things for others to get back onto the "Nice" list. And remember, you should be nice all year, not jut the week before Christmas! Santa sees you sneaking under the wire!
Moderator:
Well it's good to know we still have time.
Santa, I am a big fan of yours. My question is about the weather. Do you prefer to deliver presents with the snow falling or in the clear moonlight?
Santa Claus:
With the many time zones I go through to deliver presents all over the world, it takes me 31 hours to get it all done! I sure sleep well the next day! Santa loves to ride in the sleigh with the top down! But a little snow doesn't hurt Santa...I love to catch them on my tongue! Good thing Rudolf knows the way!!
Santa, were you ever an elf?
Santa Claus:
The elves are Santa's dear friends and helpers! But I don't think and elf could wear my costume! They are too tiny, and not as jolly as their boss!
Moderator:
I'm sure you've visited with lots of boys and girls this year. What's been the most requested gift? And, what's the most outrageous thing you've been asked for this year.
Santa Claus:
Lots of boys and girls want an xbox. The elves have quite a time trying to make this kind of present.
Santa was asked a few days ago by a little boy if he would put his little sister in his sleigh, and take her to grandmas house! I reminded him that being nice to his little sister was important to stay on the "nice" list! Plus, he may just find he would miss her if she was at grandmas without him on Christmas day!
Santa Claus:
And one young lady asks for a pony every year, but I remind her that, even though she is a nice girl, her yard isn't big enough for a pony! I told her that when she is ready to get a pony, or maybe to start with a puppy, to go to the Lawrence Humane Society to adopt a little friend that you will love for many, many years!
Moderator:
Santa you give some great advise. What do you usually tell kids when they ask for gifts?
Santa Claus:
I tell them that Santa can't promise anything, but I will see what I can do. Sometimes boys and girls want things that just aren't possible for Santa, but I remind them to be grateful for their life, and for their family and friends! Those are the best gifts you can have, and Santa loves to see happy children!
Santa Claus:
Santa also wants to remind you that you need to believe in yourself, and all the wonderful things you can accomplish in your life! Read lots of good books, be sweet to everyone, and never be afraid to ask questions! Santa loves asking questions....why, just the other day I was asking Rudolf if he ever needed to change the light on his nose! He says he uses Engergizer Batteries....he is like my little bunny, but with antlers!
Dear Santa, Do you ever get a Christmas present?
Santa Claus:
My greatest present is to bring happiness to boys and girls! Santa has everything he needs in the North Pole. Plus, since my elves make the presents, there is never a surprise for Santa!
What's your favorite kind of cookie?
Santa Claus:
Santa loves ALL kinds of cookies!! My favorite kind is LOTS of cookies! But did you know that Santa also likes carrots for his reindeer? Santa has to drive the sleigh, so he can't eat cookies the whole time, so leaving something for the reindeer is just as nice for Santa!
Moderator:
Jonny5 wants to know.......how many cookies do you eat on Christmas Eve?
Santa Claus:
Santa goes to over 20 million homes....hmmmmm.....two cookies and a glass of milk at each house. How is your math, Jonny? That is a lot of cookies!
Moderator:
That is a lot of cookies Santa. Do you go on a diet after Christmas?
Santa Claus:
Santa is lucky to have kept his figure over the years! It's another Santa secret, like getting into houses without fireplaces. Santa loves to eat greens of all kinds, and that helps keep him healthy! The elves make sure I eat an apple a day!
Kids, don't try eating 40 million cookies at home!
Do the reindeer like the little baby carrots or the big ones better?
Santa Claus:
Carrots are carrots! But be sure you have some, too, so the reindeer don't get them all!
Santa Claus:
Carrots help the reindeers see to fly the sleigh during our Christmas flight around the world!
Santa, You are so very busy. Do you take some time off after Christmas?

Santa Claus:
Santa likes to take a rest, and catch up on all the events from the North Pole, and the rest of the world, that he may have missed during the busy season! There is so much in the world that can be hard to understand, so Santa likes to take some time to think about how he can make the world a better place!
Santa, I was reading that you were working to get more benches. What does that mean, and how can I help?
Santa Claus:
Santa is friends with the wonderful folks at the University of Kansas! They have a clinic there that helps boys and girls, and grownups, learn how to communicate better. They do wonderful things for people who have disabilities, and Santa wants to put in bench in front of the clinic for the people who go there to rest on.
Santa understands that sometimes, having a place to sit is the most comforting thing. So I am trying to get a bench built by VanGO Arts at the KU Scheifelbusch clinic.
Underpriveleged boys and girls help make the benches, and learn valuable skills. VanGo makes 20 benches a year, and places them all over Lawrence. They cost $900 each, which is a lot of carrots!
But Santa is hopeful that many good people will donate to VanGo Arts, in care of Santa Bob's bench, to help make this bench a reality! In fact, Santa would love to raise money to build 20 benches!! But one is a great start!

Moderator:
Santa where will you be between now and Christmas?
Santa, You are a really nice man! I will tell my friends about VanGo Arts and Santa Bob!
Santa Claus:
I am glad you asked! Santa is going to be around Lawrence for a while!
Your parents can come meet Santa (and bring your list!) to Conroy's Pub on 6th Street this Friday night from 9pm til 11pm. He is helping the fine folks at Ballard Center with Adopt a Family. Maybe, you can even see Santa shake a leg dancing with the band!
Saturday, Santa will be at McDonald's from 10am -11:30 on 6th and Arkansas, and McDonald's on Wakarusa from 11:45am-1:30pm!
Santa will be visiting with friends at Skin Illustrated in North Lawrence from 3-5pm on Saturday! There will be face painting and cookies and candy canes and other goodies!
I hope to see all you kids!
Moderator:
Wow, it sounds like there be lots of places to see Santa before Christmas. Thanks so much for taking time to come visit us today.
Anything else you want to tell the good boys and girls of Lawrence before you go.
Santa Claus:
Keep the milk and cookies out, behave yourselves, and remember....Santa knows if you have been bad or good, so be good for goodness sake!
Moderator:
Thanks Santa and have a very Merry Christmas!