Secretary of State candidate Chris Steineger chats about upcoming primary
July 20, 2010
This chat has already taken place. Read the transcript below.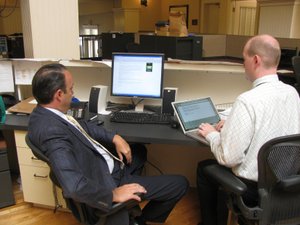 Chris Steineger is running for the Democratic nomination for Secretary of State against Chris Biggs. He'll take your questions on the upcoming election.
Moderator:
Hello and welcome to the next in our continuing series of Election 2010 chats, today with Chris Steineger. Chris, welcome, and thanks for joining us.
Chris Steineger:
G'morning everyone !

Moderator:
Let's dive right into questions.
I know you have travelled widely and studied government and political systems in other countries. Will this experience help you as Kansas Secretary of State and if so, how?
Chris Steineger:
Yes. America can learn a lot from other countries on a wide variety of issues, including universal healthcare and waste minimization, better driver standards, photovoltaic energy, etc.
MVFS:
Chris,
What makes you different from all the rest?
Chris Steineger:
1) My years in the legislature have given me a chance to tour our state repeatedly and I know our different regions, our different lifestyles and the different ways we make our money. Any statewide official should know our official broadly and in-depth.
2) My wife and I are small business people. We own and operate rental property. This has taught us much about risk analysis, how to make and live within a budget and customer service and marketing.
3) I'm a Democrat with a very independent mind. In fact, in the legislature I'm know as the creative, independent guy. By happy coincidence, voters across the country this year are looking for people who are independent-minded and away from party ideology.
4) The Steineger name is a a well-known brand across Kansas. To be a good statewide official, we need someone who is known and accepted by Democrats, Republicans, Libertarians and Independents — all types of voters. I'm that guy.
flux:
What exactley does the Secretary of state do for the state? The explanation on the current Secretary of Sates web site seems a little broad and confusing, please simplify.
Chris Steineger:
1) The Secretary of State is the chief election officer for the state of Kansas, and as such needs to be someone who is independent-minded, fair and impartial.
2) The SoS, is the chief keeper of public records and public registries. This function is much like running a small business in that the office provides a service, a product, in exchange for a fee. This part of the Secretary of State's office requires good managerial skills.
You were fined $5,000 for violating campaign finance laws for using Senate campaign funds to twice pay for polls to evaluate your potential as a candidate for Secretary of State. You claim it was an unintentional mistake. You also illegally sent fund raising emails to lobbyists during the legislative session.
Given that the duties of Secretary of State are primarily documents management and record keeping, doesn't your history of mistakes disqualify you for the position?
Chris Steineger:
Dear Grump--
I suspect I know who you are, one of my detractors! Yes, I made a mistake with my campaign finance in that I paid for polling from the wrong checking account. I self-reported the error, complied with the ethics commission, paid the fine, and I'm moving on.
Moderator:
What made you decide that now was the time to run for statewide elected office?
Chris Steineger:
Like a lot of young people, I have a desire to move up. Last summer, Ron Thornburgh decided he would not run again. I spent several months considering this option and ultimately decided I like the SoS office because it requires someone who is independent, non-partisan and business-minded. That's why I decided to run here and now.
How do you think the Secretary of State can affect voter participation?
Chris Steineger:
Voter apathy is the greatest problem in American elections — not illegal immigrants or voter fraud. I have several ideas: 1) In today's busy society, people like convenience in their lives, so I would consider moving, on a trial basis, several advance voting locations into places people frequent, such as grocery stores or banks. 2) I will attempt to move more polling locations into schools, to inspire the next generation of young Americans to vote. 3) I will work with young people's organizations from high schools to universities to Boys' or Girls' State to scouting organization to emphasize the importance of voting and start voter registration drives.
Moderator:
What about social media? Do you think YouTube, Twitter, Facebook, etc. can be used to tap into the 20-something demographic, which is often extremely apathetic?
Chris Steineger:
Yes, these and other social media are also ways to inspire the younger generation. Furthermore, based on a 2004 amateur film competition sponsored by MoveOn.org, I would consider an amateur film competition called "Voting in 30 seconds," or "Participating in 30 seconds" as a way to inspire young people to create their own films to market to their own generation the importance of voting.
You mentioned that you were a small business owner. How does that experience make you a better candidate?
Chris Steineger:
Small business people are motivated people who want to achieve. Typically they work lots of hours and risk their own money to pursue their dream. Specific skills I've learned are 1) how to analyze and assume risk, 2) how to make and live within a budget, 3) marketing and customer service. The public records and registry side of the the Secretary of State's Office is essentially like running a small business. It receives no money from the state budget and it instead is funded by the fees customers pay for the services and products they choose. Someone who understands the notion of product and price and marketing will perform well here.
We're living during a time that seems to be increasingly partisan. If elected, in what ways will you work with members of other parties?
Chris Steineger:
During my years in the legislator, I've always tried to find things in common with people from all political factions: conservative, Democrat, Libertarian, independent. A core philosophy of mine is we are all 99% alike and only 1% different. It's identifying the vast commonalities we all share and avoiding trivial difference is the key to moving beyond partisanship. I myself have become disgusted with the partisan absolutism exhibited by political leaders on both sides of the aisle. A lot of good people get elected to Topeka and Washington, but once there the partisan leaders attempt to drag everybody into ne camp or the other. This is one of the causes of the meltdown and gridlock we see in Washington and increasingly in Topeka.
Chris -
Didn't the Winfield Newspaper confirm that you didn't really self report your violation? Aren't you being dishonest with this and a number of other issues?
Chris Steineger:
No. The Winfield Newspaper was never around or involved in any part of this incident.
If elected, what is your first priority as SoS?
Chris Steineger:
1) The first long-term goal is to increase voter participation. This will be a decade-long if not generational effort. 2) Update and enhance the online and website capabilities and user-friendliness of the SoS website.
Moderator:
We received this question via e-mail:
Many Democrats are concerned that this will be a tough election for Democratic candidates. Why should Democratic voters be convinced you're the best candidate to take on the Republicans in November?
Chris Steineger:
The Steineger name is a well-known brand across Kansas and has been for many years. Even before I filed my candidacy, I talked to 100 or so Republican activists around the state as well as some Libertarian and independent voters and asked of my viability. Under the right conditions, if an arch-conservative is nominated by the Republican party, I think the Steineger name will have a lot of draw and viability among Republican, indepedent and Libertarian voters. Small business owners around the state will also give me favorable consideration.
Another half-truth Chris. I suppose you should check the Winfield Currier where more than one member of the Governmental ethics Commission dispute your claim that you self-reported.
Chris Steineger:
I think you hate me.
Moderator:
Kansas is a tough state in which to be elected as Democrat. How do you approach Republicans to draw them to your side?
Chris Steineger:
The Moore-Sebelius formula to be elected as a Democrat in Kansas, you have to be someone who's been around for a while and has proven themselves as a reasonable, thoughtful person. Certainly, I've been active in public life 20 years and through opinion sampling, it appears Republican and independent voters know me, like me and would consider voting for me. Furthermore, like everything else I do in life, I'll work 16 hours a day, 7 days a week fro Aug. 4 through the November election to meet people and gain their vote.
Moderator:
What was the biggest lesson you learned while serving in the Statehouse?
Chris Steineger:
I would say the problems facing Kansas and America are bigger than most of the solutions we can offer. There are many good, well-meaning people elected to the Legislature and to Congress, but collectively we need to think bigger and more outside-the-box to solve problems like health care reform, affordability of university education, energy consumption, etc.
Moderator:
That's the last question we have. Chris, do you have any closing thoughts today?
Chris Steineger:
My closing thought is I urge everyone to rethink how we've been living the past 20 years, which is, in essence, completely unsustainable. We've been living beyond our means for a long time based on cheap, easy credit and our own material desires. For America to survive another 237 years, we need to be more sustainable in our thinking with regards to how we use all resources, including money, debt, oil, water, etc. I wish you all a good summer and fall.
Moderator:
Thanks Chris and thanks to everyone who submitted questions. Advance voting is going on now at the Douglas County Courthouse. Election Day is Aug. 3.