Chat live about the City Commission and School Board election results
April 3, 2007
This chat has already taken place. Read the transcript below.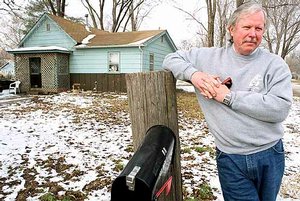 Former Mayor Bob Moody will join business editor Mark Fagan live on the 6News election coverage at 8 p.m. Tuesday to discuss polling results. They'll take your questions and comments live online here at LJWorld.com -- and a few of those questions might even be addressed on TV. Join the chat Tuesday evening.
With the sharp voting division along Kasold in the primaries (progressives heavily won east of Kasold; developer-backed newcomer candidates heavily won west of Kasold), should Lawrence be moving to city commission election districts instead of electing all candidates at large?
Bob Moody:
Thanks for the question. I am not a big proponent of ward politics. I believe it will add to a further fragmentation of the city. It leads to Commissioners trading votes for votes benefitting their district. I think if you look historically at past elections there has been a broad representation of all areas of the city. I would hate to move from that.
Moderator:
Thanks, Bob.
I apologize for niot introducing myself earlier. I'm Mark Fagan, business editor here at The News Center. I've been around for city elections since 1993. I'll try to keep former Mayor Moody on track.
Moderator:
Here comes another question.
Joel:
Any prognostications about tonight's winners?
Bob Moody:
Interesting question. If history holds true, the advance voting generally sets the trend. I think the race is probably for the 3rd spot on the Commission. That was very close in the advance ballots.
Given that the student bloc is large enough to have a significant effect on city elections, why do you think it is that, in general, candidates do little to court the student vote? Do you feel student turnout could be improved if more effort to reach out to the student body is committed?
Bob Moody:
A veeery timely question. I was just talking with my son, a graduate student at KU, about that very issue. I do not believe the students recognize the impact of city decisions on their daily lives. Furthermore, the UDK only today did any stories regarding the city commission election and to the best of my knowledge did no stories on the school board. The voter turnout at the Burge Union during the primary was abysmal and I don't expect a great surge,
Moderator:
The student issue has been around a long time. I wonder how the prevalence of online communications might affect elections in the future.
Mr Moody, why would you say there was so much campaign money involved in this city commission election? And another thing....
Bob Moody:
Thanks for the question. I am somewhat surprised by the amounts but it does take a lot to run. I looked at the last campaign finance submittals by the candidates and I was surprised at how closely, percentage wise, the number of large contributors (in excess of $100) between all of the candidates. There are a larger number of smaller contributions for those who raised so much money.
How does the city commission reconcile the need for tax revenues for city services and amenities with giving tax abatements as incentives for businesses to locate in Lawrence?
Bob Moody:
Good question. There is a general belief that amenities to business are expenses for the city. That may somewhat be the case, but when you discuss tax abatements, you need to understand that there will still be taxes paid by the benefitting business. They will pay increased taxes on improvements that otherwise might not come to town. In other words, is 50% of a high tax base more income for the city than 100% of whatever is there.
I considered running for the council this year, however with some thought and conversation with other folks, it was suggested that I would need to raise approx. $30,000.00 to get started. It looks like that was a realistic number. What would you suggest to someone who is considering running for the next election?
Thanks

Bob Moody:
Good foresight. I would make myself as knowledgeable about the city as possible, the city's staff and their positions in the city. I would talk to many people, go to many different meetings, city commission, neighborhood, and service organizations. Talk to the movers and shakers in our community, and be prepared to spend an enormous amount of time campaigning. The campaign begins long before the announcement. Make certain you have a base before you jump.
Moderator:
Thanks, Bob. That's all the time we have for tonight.
I'll go ahead ask I question I answered earlier tonight on Massachusetts Street:
Moody, are you related to Carey Maynard-Moody?

Bob Moody:
This is not the first time I have answered that question. She has been accused of being my wife or my sister. She is neither. My wife, Patsy, will be glad to know that I am not a bigamist. Carey, to the best of my knowledge, is no relation and I am certain that she would not claim me as such.
Moderator:
Thanks again, Bob.
And thanks to eveyone out there who posted questions and followed our chat online.