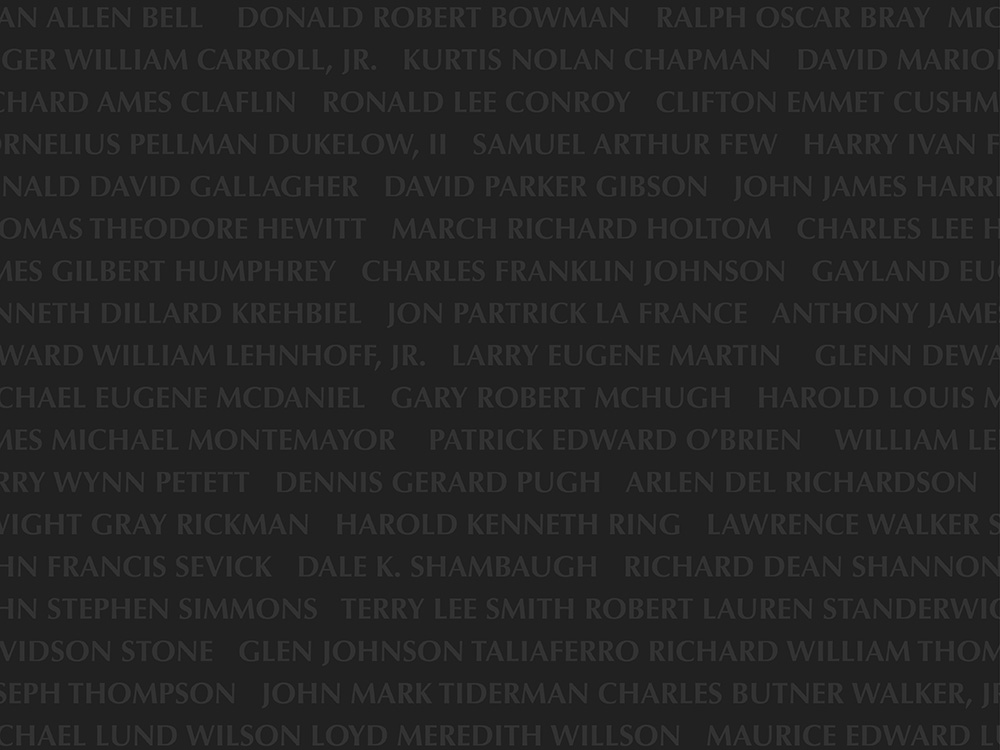 THE KU 59
Scroll down to learn their stories
Olympian slain in the war had
always looked 'up at the stars'
Written by:
Trevor Graff
Posted on: May 25, 2014
On Sept. 13, 1964, Cliff Cushman lay bruised on a cinder track in Los Angeles Memorial Coliseum. It was an attempt gone awry to qualify for the 1964 Olympics in his main event, the 400-meter hurdles, the event in which he had won the silver medal in Rome four years earlier.
Cushman had caught his cleat on the fifth hurdle and fallen unceremoniously onto the jagged cinders. The Kansas University All-American responded in a letter to students of Grand Forks (N.D.) Central, his alma mater.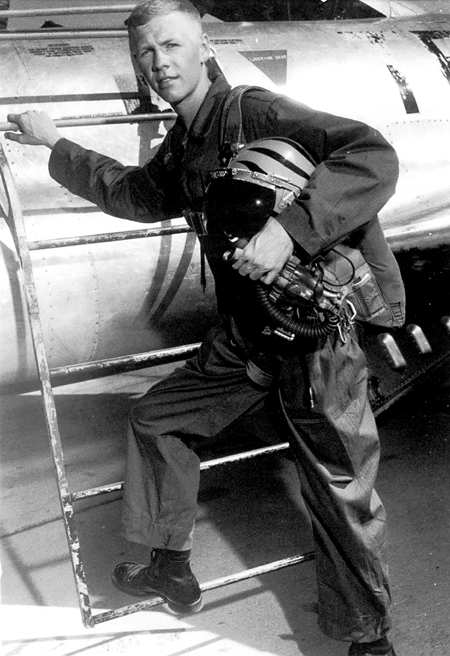 KU All-American track athlete and 1960 Olympic Silver medalist Cliff Cushman was shot down in September 1966 and declared missing in action. He was declared killed in action nine years later but his body was never recovered.
"Don't feel sorry for me. I feel sorry for some of you!" Cushman wrote. "In a split second all the many years of training, pain, sweat, blisters, and agony of running were simply and irrevocably wiped out. But I tried. I would much rather fail knowing I had put forth an honest effort than never have tried at all."
In September 1964, Cushman was fighting for an Olympic berth. Two years later he was fighting for survival.
As an Air Force pilot, Cushman was shot down in North Vietnam in 1966. He was listed as "Missing in Action" until declared dead in November 1975.
While at KU, Cushman was an Air Force ROTC member, joining the Air Force following his graduation in 1961. He became an F-105 Thunderchief pilot in the 469th Tactical Fighter Squadron in South Vietnam. The F-105 became the primary aircraft delivering bombs on tight targets. The bomber eventually was removed from service because of high pilot loss rates.
The Thunderchief's personality fit the 28-year-old major from Grand Forks. It was a fast aircraft set for precise bombing missions. It provided an adventure for Cushman.
Before the Air Force, Cushman was a member of the Kansas track and cross-country teams.
Bill Dotson, a four-time conference champion and two-time All-American miler from 1960 to 1962, was a close teammate of Cushman's. The two trained together during and after their time at KU.
"He was always very direct and articulate in everything that he expressed to other people," Dotson said. "He had a sense about how to make everyone else a better person. He was a multidimensional person, not only a great athlete, but a great motivator. That's why I gravitated toward Cliff. He was my mentor."
Cushman's time at Kansas was marked with championships.
He finished second in the 400-meter hurdles at the NCAA Championship in 1959 and won the same event in 1960. His 400-meter hurdle personal best clocked in at 49.6 seconds, good enough to earn a trip to the Olympics.
Cushman's love of flying came from his father, Stan, who owned a Cessna 172 and took the boy flying often. That love of flying never faded.
"Cliff loved to fly with his dad," said Carolyn Blaine, Cushman's widow. "When he had the opportunity to do some flying in ROTC and later go to flight school, he jumped at the chance."
The orders that sent him to South Vietnam came on Thanksgiving Day 1965, the same day the young couple brought home their newborn baby boy, Colin. The couple had nine months together before Cushman moved to McConnell Air Force Base in Wichita to train in the F-105 bombers.
"He loved his country and he wanted to do his part to protect it," Blaine said. "Even though the fighting wasn't on our soil, he was over there to do the job he was told to do."
Blaine said Cushman remained unshakable in his Christian faith. He went to Vietnam to fly bombers with a 9-month old and Carolyn at home. Blaine said he was simply following orders.
"In one of his letters to me, he said that he was always very careful to hit the target because he didn't want to hit a family home where there might be a 9-month-old baby boy," Blaine said. "He was just such a caring human being."
Two years and 12 days after his fall at the 1964 Olympic Trials in Los Angeles, Cushman fell once again, this time in the jungle of North Vietnam. He was sent to bomb a bridge and was shot down on Sept, 25, 1966.
For years after Cushman was declared missing in action, Blaine continued to send her allotted three letters per month and one package every two months to her husband. The mail was never returned, so she continued to hope he was alive. As the director for the Forgotten Americans Committee and Nebraska coordinator for the National League of Families of American Prisoners and Mission in Southeast Asia, Blaine gave dozens of speeches. In a 1970 Journal-World article, she said, "I can't make 1,600 men real, but I can make one man real."
Cushman's legacy lives on. He is an inductee to the North Dakota Sports Hall of Fame. His 1964 letter to his former high school challenges students to set a goal and chase that goal.
"I dare you to look up at the stars, not down at the mud, and set your sights on one of them that, up to now, you thought was unattainable," Cushman wrote. "There is plenty of room at the top, but no room for anyone to sit down."
Back to menu
Star pilot volunteered for
dangerous, secret flights
Written by:
Raelean Finch
Posted on: May 25, 2014
It was late in 1972. President Richard Nixon was on the verge of being re-elected. He had cut troop levels in Vietnam by 70,000. Rumors of peace talks entered a pool of speculation already churning with rumors of a secret war being waged by the CIA in Laos, a "neutral" country neighboring Vietnam.
Shirley Mischler-Davis had no idea her brother Hal had just signed up to fight in it.
"We didn't even know where he was at the time," Mischler-Davis said of her brother's involvement in the secret war. "One day he just sent everything home and said that as far as we were concerned, he was no longer connected with the Air Force."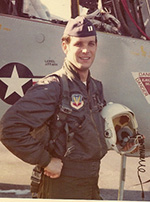 After Hal Mischler joined the Ravens, he shipped all his possessions home to his parents. Officially, he was no longer in the Air Force but one of 22 pilots fighting the CIA's secret war in Laos.
Hal Mischler was a good pilot — one of the best. After graduating from Kansas University in 1961, he got a commission in the Air Force and commenced crisscrossing the globe flying cargo planes. In February 1972, Mischler shipped off to Thailand to pilot high-flying reconnaissance planes called OV-10's over Vietnam as a forward air controller. He'd find enemy positions, then guide bombers in so they could drop their cargo.
Then, as Mischler's tour was coming to an end, he made a fateful decision: to join the Ravens.
A tiny unit comprised of no more than 22 men at any one time, the Ravens were forward air controllers for the CIA's secret war in Laos. They flew in support of the Royal Laotian Army against contingents of the North Vietnamese Army that had infiltrated Laos.
Instead of relatively safe OV-10's, they flew low over the Laotian countryside in single engine, two-seater, Cessna-like planes. They searched for North Vietnamese positions that ground troops couldn't see, sometimes goading well-camouflaged gunners into firing at them to reveal their locations. To guide bombers to the enemy locations they found, the Ravens would sometimes use smoke grenades, other times landmarks. Ideally, the Ravens provided pinpoint grid coordinates. Sometimes, when bombers weren't available, the Ravens strapped high explosive bombs to their wings and dropped them on the targets themselves, an extraordinarily risky technique.
"We were 25. We were immortal," said Jack Shaw, former Raven and longtime friend of Mischler's.
Mischler's reputation and rank earned him a position as a senior Raven immediately upon his entry into his program. He landed in a tough spot. The war in Laos was getting hotter, but pilots and planes were in short supply.
Lew Hatch, whom Mischler had replaced as senior Raven, said the two of them frequently flew upwards of 180 hours each month, nearly double the flying time allowed by Air Force regulation.
On Dec. 23, 1972, Mischler and his Laotian co-pilot were shot down over Saravene, a hotly contested piece of terrain in southern Laos tenuously held by out-numbered and out-gunned Thai soldiers. It was a mission Hatch had been slated to fly. But Mischler was tired of flying training flights and yearned to get back in the fight. And it was quite a fight in Saravene.
"In that one 24-hour period, the 23rd and 24th of December [1972], we lost 40 percent of the Ravens that were in country. For years after the war — after we came back — I was really depressed over Christmas," Hatch said. "It took me until about 10 years ago before I really got over that."
A few weeks after Mischler-Davis' parents received her brother's trunks packed with uniforms and Thai souvenirs that he couldn't take with him to Laos, they received Hal Mischler's body. Among his effects was the camera he'd taken with him to his secret mission in Laos. There was no film in it.
Back to menu